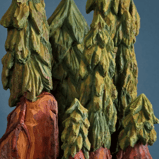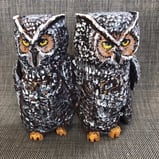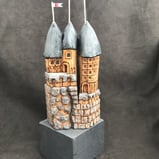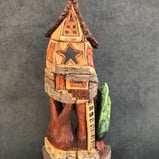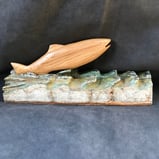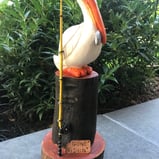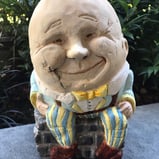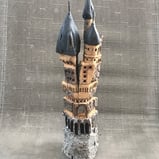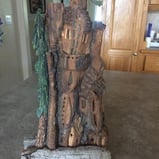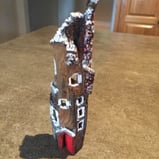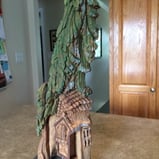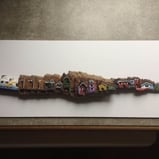 Laurie creates using all-weathered cottonwood bark from non-living trees. Most wood is found riverside in Northern BC. Everything is hand-carved using homemade tools and Flexcut knives and chisels. Her work is predominantly fantasy houses, castles, nature and local or maritime scenes drawn often from folklore, and literary sources. Commissioned pieces such as children's nightlights and lighthouses have been requested.
In some of her work, Laurie combines acrylics for shading and pyrography for definition. All pieces are sealed with wax or clear acrylic sealers (matte or satin).
Laurie is an SFU Alumna of the Contemporary Arts Program and member of Miniature Club of BC. Now retired from Dance and Multi-media performing, she is currently working in her home studio with cottonwood bark carving, pyrography, mosaics and outdoor Pop-Art painting. Her carving creations available are Fantasy Houses, Lighthouses, nightlights, 3-D ornaments and local scenery. In 2001, she designed the original Crossroads Hospice Dragonfly logo for the Capital Campaign for Inlet Centre. The Dragonflies of Hope project that followed became the inspiration for many artists and their signature has taken on a life of its own since then. She has also constructed large pieces for stagecraft for local high school musicals and community Cabaret productions. She assembles shadow boxes created with sculpted figures and scenes depicting children's literature which act as nightlights.
Laurie often integrates wood, clay, silver wire, broken tiles/china and 'found objects' into unique mixed media pieces. Her 3-D café plaque series sold to coffee shops, bistros and adorn her fans' kitchens. In June 2018, Laurie completed a design for 'Pianos on the Street' for the City of Port Coquitlam which was on display that summer and available to play at Hyde Creek Recreation Centre.
You can contact her at:
lauriejc65@gmail.com
and check out her website at: